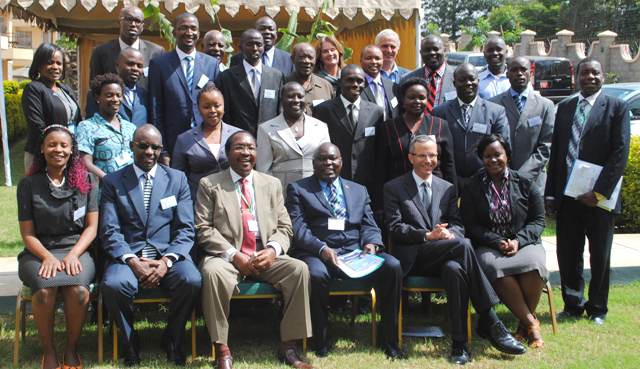 Nairobi-Kenya, 29th April 20146-The ICGLR Youth Forum is meeting in a 3 day- planning workshop in Nairobi in order to prepare documents that shall be presented to the ICGLR Member States in a special summit devoted to youth unemployment in the Great Lakes Region due in July in Nairobi.
The meeting was officially opened by the ICGLR National Coordinator for Kenya, Ambassador Ken Vitisia on behalf of the Minister in charge of planning in Kenya on Monday 28th April, 2014. Youth unemployment was identified as one of the major challenges threatening the Great Lakes region by the Heads of State and Government at their 4th Ordinary Summit held in Kampala in December 2011, who then decided to hold a special summit devoted to that issue. Ambassador Vitisia pointed out that conflicts in the region are caused and triggered by unemployed youths, reason why the issue of youth unemployment needs being seriously addressed.
The ICGLR Executive Secretary was represented by the Programme Officer Democracy and Good Governance, Ambassador Li abo who gave the statement on his behalf. Ambassador Ligabo commended the work done by the Youth Forum by developing a strategic plan and an action plan (2014-2016). He thanked the government of Kenya for accepting to host the special summit and the present workshop and partners who provided support for the organization of the meeting.
The opening session was also attended by representatives of the international community and the Special Advisor to the Special Envoy of the UNSG Special Envoy to the Great Lakes region, Ambassador Modibo Toure who also addressed the meeting. He called upon participants to identify the causes that limit youths'employment to be presented to the policy-makers and promised support by the office of the special envoy to the projects that will be developed from the outcome of the workshop.
The workshop has amended a draft accord on the setting up of the ICGLR Youth Forum that will be presented to youth Ministers from Member States for adoption in July this year. The workshop is also analyzing a strategic plan that shall guide Member States in developing their action plans where they don't exist.
The workshop is gathering 40 participants from the bureau of the Youth Forum and experts, the ICGLR Secretariat, the Lusaka Centre on democracy and good governance, the Forum of Parliaments of the ICGLR, the ICGLR Forum of Civil Society, development partners as well as UN agencies.
Key Documents
Media Center
Download
Here will be most of downloadable data