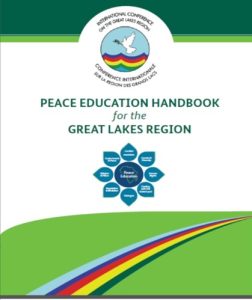 Download the ICGLR-Governance Peace Education Handbook HERE
The Peace Education Handbook is a product of the International Conference of the Great Lakes Region (ICGLR)'s Regional Peace Education Project. It was developed in the framework of the Regional Project on Peace and Security co-funded by the European Union and the German Federal Ministry of Economic Cooperation and Development (BMZ) and implemented by GIZ.
The handbook is a compilation of different topical areas covering a wide spectrum of areas that attest to the nature of conflicts in Africa especially in the great lakes region.
The Handbook emphasizes the importance to shift our focus from violence and conflict and towards alternative solutions. By thinking and discussing, by analysing and debating how to actively build peace in our society, our minds can learn to refocus on the positive. Building a culture of peace means to actively imagine and create more encouraging, respectful and appreciative ways of living together, which are beneficial for everyone in a society.
The Peace Education Handbook is addressed to teachers, facilitators, trainers and educators in general who are looking to integrate peace education into their work and curricula. It assumes that its users bring substantive experience in teaching in general – hence leaving out general pedagogical advice. Nevertheless, it gives many practical examples on how to integrate peace education into various subjects, how to carry out activities and how to adapt them to different target groups.
The beneficiaries of the peace education content here may include but are not limited to learners and other users of the handbook such as: primary or secondary school children, children who dropped out of school but can be reached in other ways, youth clubs, social clubs and social groups, churches and other religious centres, and many more. Since the handbook builds on much of the material that is already available in the four pilot countries, it focuses primarily on youth but the majority of activities can be implemented with adults just as well.
The Peace Education Handbook provides tools that can be used in a number of contexts such as schools, universities and non-formal education settings on varying occasions. However, it is the responsibility of the peace educators themselves to determine which of the topics and modules as well as which of the tools and activities are the best match for their specific audience. It aims to provide teachers, trainers, facilitators and peace educators with both a theoretical Peace Learning Framework as well as a Toolbox of practical tools to implement peace education. The Framework as well as the Toolbox are designed specifically for the Great Lakes Region and include approaches and tools.
This Handbook was developed building on existing resources from the Great Lakes Region and elsewhere in the world. By including local and national resources and featuring the region's peace education actors, readers and users within the region know whom to approach for expertise on the respective matter. Furthermore, peace education actors outside the African Great Lakes Region or even outside Africa may be inspired and benefit from the region's tools and approaches. The Handbook thus is a prime example to enhance learning from the Global South.
The Peace Education Handbook includes both knowledge and skills on various topics connected to peace education, but most of all focuses on the values and attitudes that need to be transferred in order for peace education to have a lasting impact. This has been done by presenting the different topics as modules which an educator can ably use in any context of learning both with practical examples and references to other resources on the subject of study. Each of the modules provides some basic background on the topic at hand. This can in no way be comprehensive; rather, the aim is to provide the peace educator with enough general knowledge so that they can decide in which context and in which way to introduce the module to their learners. The content of each activity can easily be adapted to different contexts (level, age, proficiency).
We hope that all readers will enjoy reading and working with our Peace Education Handbook. We welcome each and everyone of you to act as a multiplier and promoter of peace education and support our work towards a culture of peace!